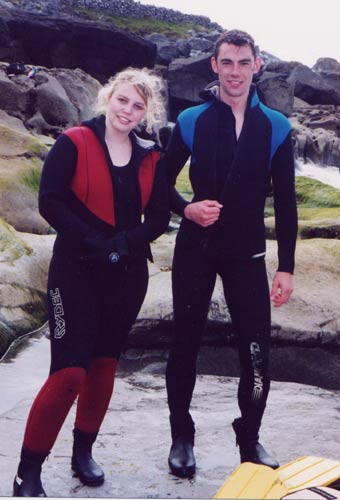 Molly Taylor from Shropshire, England, is a frequent visitor to the west of Ireland with her brother George and parents Dave and Liz. On 30th May, they all went swimming with Dusty in Fanore along with some family friends. This is Molly's story.

I first had the experience of swimming with a dolphin when I was just 7 years old. This was when I first came into contact with Fungie, the Dingle dolphin. I am now 19 and have swum with him on several occasions. However, when Graham mentioned that another wild dolphin had taken up residence in Fanore, County Clare, we thought it was too good an opportunity to miss. As we were on holiday in Ireland, we decided to travel up from County Kerry to pay Dusty a visit. When we arrived, we parked in a lay-by and investigated the area. Once we'd found Dusty, we hauled our wetsuits over a stony field and as soon as I arrived at the rocks and looked down at the sea, I could see a fin swimming round a swimmer. I instantly knew it was her. I was so excited! She was swimming only a few metres from the shore. I couldn't believe she was in so shallow! We stood watching her for a few minutes and just admired her, able to see her whole body in the surf. The bay she was in was very hidden from the road and sheltered. I felt as though we'd found the pot of gold on a treasure trail. This is what we'd travelled all those miles for!

I got my wet suit on as soon as I could, as I was so desperate and eager to get in the water. I just wanted to be with her in case I missed my chance, worried she might go off to feed. As we were changing, I suddenly realised I had my glasses on but my contact lenses were in the car. This was a nightmare, as mom had to go back to the car to fetch them for me, which seemed like a lifetime. I watched my brother and others go in the water, where Dusty went straight up to them and they played together. At one point, Dusty lay parallel with George and Luke, motionless. I wanted to be part of it all so much. By the time mom got back and we'd put our wetsuits on, the sea was getting very rough. I was extra careful and concentrated on the waves instead of the dolphin, as I knew it was dangerous and that the waves could easily have knocked us over. Dusty was investigating me apparently while I was putting my mask on but I wasn't aware she was there; mom didn't want to alarm me. It's such a mad feeling knowing a big dolphin had been behind me. It was actually quite scary because I wasn't sure where she was. Once we were over the initial waves, the sea was much easier to handle and this was when I first caught a glimpse of Dusty in the water. I saw her fin coming towards me. I got so excited. I didn't know where to look first! Should I look under water? Should I look at the surface? I couldn't believe it; Dusty was actually coming to see me! I put my head under water and saw her swim towards me. It was amazing to see this massive 'thing' underneath me - it went on for ages - she was so graceful and slow. I saw her face, eyes and nose, then her body and tail. The contrasting greys were so pretty. It was incredible. I've seen pictures of dolphins under water before but to see it with my own eyes was unbelievable. My heart skipped a beat - it was as if I'd inhaled a big breath and I couldn't breath out until she'd passed. It was beautiful but also a strange and scary feeling because she was so big. I was scared to put my feet down in case I kicked her, as it was so shallow. She was so friendly and gentle. I think she sensed I was a bit nervous! She prodded me a few times but not nastily. There was one point where she just lay there with her head and fin above water and let us touch her. I stroked her side. It was so amazing. She was so lovely and loved being fussed.
I felt I could talk to her, as if we had this understanding between us. I was aware not to hold onto her fin though, as they can sometimes see that as threatening. I guess I just knew I had to be careful because I was swimming with her, on her terms. This is the best part about it really. We were going into 'her' environment; she wasn't in captivity; she chose to come and swim with us. It was just such an amazing experience and I love her to bits! Mom and I found ourselves drifting toward rocks so we came in after only 25 mins, as it was really rough and getting dangerous. Dusty accompanied us as far as she could back to the shore - we felt that she was seeing us to safety. I was reluctant to get out of the water and didn't like leaving her on her own. Just before we were about to leave and trek back up the hillside, Dusty came to the surface with a white carton on her nose. At first we thought it was stuck but then we realised, she was showing off! We reckon she was saying 'bye' to us. We felt guilty leaving her all on her own but I guess she's used to it. None of us wanted to leave though, we wanted to swim more and more. We were the only ones swimming. I was so hyper afterwards, felt really fulfilled. I'm so lucky to have experienced it and she's so special. It was a fantastic experience and I can't wait to do it again!

Contact Molly

Editor's note: Molly has been suffering with the illness ME for the last 2½ years and it takes all her energy just to get her wetsuit on, so swimming with the dolphin in the open sea is a major achievement for her.